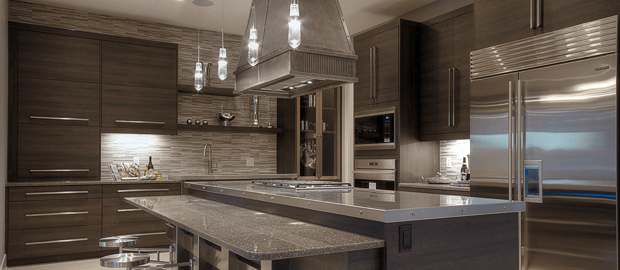 Have you ever noticed that most people prefer to gather and socialize in the kitchen more than anywhere else? For this reason, the kitchen is the most important room in your home, especially if you love to entertain.
Kitchens are frequently coined the "heart of the home" for a reason. From intimate family gatherings to fun-filled evenings with friends, your kitchen plays an integral role in making lasting memories
Maybe you love spending Sunday afternoons with your kids baking the latest cookie recipe you saw on Pinterest, or Friday nights with a barbecue and wine. Consider the last few gatherings you hosted - what were your frustrations and wish-you-hads?
With that in mind, read on to discover a few must-haves when it comes to having the ideal kitchen for entertaining.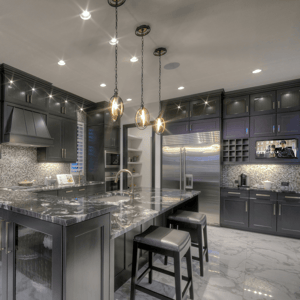 1. Kitchen Island
This might seem like a "given" as most kitchens today are designed with an island. But, it's the TYPE of island you'll want to consider depending on your style of entertaining. There are many different designs when it comes to kitchen islands. These include anything from simple rectangular spaces to raised or flush eating bars and islands with a lower side table attached for casual eating.
A raised eating bar may be ideal if you prefer to serve food in snack form, or offer a place to gather and set drinks down. However, if you spend a lot of time baking or prepping food, a flush island might be better for the expansive working space.
If you're partial to big gatherings, having two islands may also serve a variety of options for serving more food at once, and for more space to gather.
2. Butler's Pantry
Once a thing of the past, the butler's pantry is making a comeback as a wonderfully functional part of your kitchen. Separate from the main kitchen, yet still attached for convenience, this pantry's main function is to provide a separate serving space where food and drink can remain out of view until it's needed. Offering plenty of additional storage for linens, silverware, glassware, candles, and serving items, this type of space is both convenient and sophisticated.
3. An Open Plan
When you look at older homes, you'll notice they weren't built with open-concept in mind. Rooms tend to be more segregated, closing you off from your guests - making socializing as you prepare food and drink nearly impossible.
Today's new home plans put great emphasis on open-concept, combining the kitchen, great room, nook and dining areas into one, large flowing space. No longer are you trapped in one room while your guests are in the other. You're free to join the conversation while preparing drinks in the kitchen or topping up snacks.
An open-concept plan could also include an outdoor space connected to your kitchen or nook. On those tranquil summer evenings, hosting a barbecue is made easier as you and your guests flow freely from indoors to outdoors without interruption. A sizeable deck complete with outdoor entertaining features makes for an extraordinarily comfortable entertaining space.
4. Wine Cooler, Rack or Room
Having a wine cooler or wine room ensures your best wines are at your fingertips when friends or family come calling. By building this into the design of your kitchen, you also add elegance to your space. Both can be built into the side of an island or as part of your wall cabinetry. Consider designing your kitchen to include both for maximum storage.
5. Ambient Lighting
Often overlooked, lighting is important when setting the mood. If you frequently host evening parties, select lighting allows you to dim to a lower setting. This is where a butler's pantry also comes in handy: you can add extra lighting for preparing food and drink where it doesn't affect the common gathering areas.
6. The Right Appliances
Oddly enough, most refrigerators aren't built to accommodate serving platters. However, if you frequently host gatherings where this is a necessity, be sure to select an appliance with wide, flat shelving to accommodate multiple serving platters. The same goes for dishwasher, ovens, and other appliances. If you like to entertain, they'll need to be able to handle the job. So, while you're out searching for your premium appliances, be sure to look for items that best suit your needs.
7. Specialty Cabinets
From spice cabinets to conveniently-hidden trash bin drawers, there's no shortage of custom cabinetry options to incorporate into your kitchen. A lazy-Susan is a great addition to a corner cabinet for utilizing that additional storage space. A sink tip-out tray is great for keeping scouring pads and brushes ultra-convenient when washing dishes. End shelves are also a beautiful design feature as well as a great place to showcase your cookbooks or copperware.
From open space to specialty cabinetry, these are just a handful of must-haves for your entertaining kitchen. Do you have any specific kitchen must-haves? Let us know in the comments below!