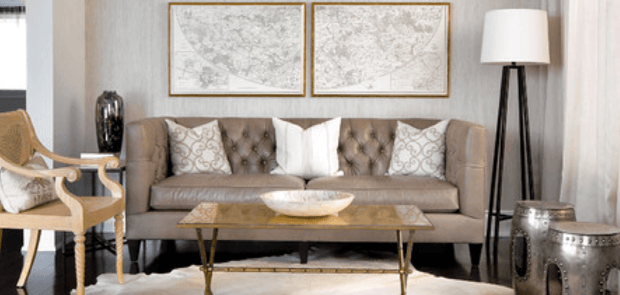 Are you always looking to stay on top of current design trends for your home? This can be a great reason to use an interior designer, as they're sure to always be up-to-date on the latest and greatest.
However, you can certainly take it upon yourself to incorporate trends that catch your eye. Since it's nearly 2018, we thought we'd take a peek around and see what's changing on the design landscape for the coming year, and we found some interesting ideas we'd like to share with you.
Some older trends are returning, and you might actually be surprised at what you see!
Brown and Beige
Neutral tones of brown and beige have made a full return. Grey was such a popular neutral hue for a few years, but it seems the trends have returned to brown. The wonderful thing about this tone of colour is that it can really work with just about any type of hardware, fixtures, and finishes in your home.
Accent with chrome or any brushed metal hardware, or even black iron. If you still want to bring in a pop of colour to your décor to work with the brown, just about any colour will work. Additionally, natural texture is still in so if you like to incorporate natural wood, linen, or cotton these will all enhance your beige colour scheme very well.
Brass
This is not the shiny, overused brass of the 1990s. Brushed brass fixtures and hardware are coming in as a deeper alternative to gold. Mixing metals is also a newer trend, and if you select the perfect finishes to combine, these metals create a stunning and contemporary look in your home. By using brushed brass hardware and lighting in an all-white kitchen, you add a warming element to the space that adds a surprising level of luxury.
Reclaimed Wood Walls
We know this one isn't exactly affordable; after all, reclaimed wood can cost more than any other type of finishing product available. But if you're smart about where you obtain it, you can convert it into an absolutely stunning feature wall. This is a great statement piece around which you can design a room.
You can either apply it "Joanna Gaines" style by treating it as shiplap in a horizontal layout, or you can make things a little more interesting with a herringbone or arrowhead pattern. The natural, aged look of the wood will warm up just about any space and inspire your lighting and décor for the rest of the room.
Orange and Red
What? Yes...orange and red have returned from the 1960s and are ready to splash up your home décor. We should probably clarify, though – they are not coming back together. Choose either red or orange to spice up your home décor through fabrics, rugs, throws and pillows, or even patterned wallpaper. But whatever you do, choose only one, not both.
This is where the trending pops of colour end for 2018, though.
Suede and Velvet
If you can believe it, these textures from the 1970s are now making a comeback. Suede and velvet sofas and chairs are becoming popular once again for their soft, luxurious looking finishes and deep, rich colours. Combine this texture with the neutral brown colour scheme for rich, comforting tones in any space.
Ceramics
Something we haven't seen in decades is ceramics. Pottery is returning as part of the more natural texture and finish trend, and you'll start finding ceramic lamps, pots, and artwork in the décor trends for 2018. If you like the organic look, you might want to treat yourself to a pottery class and make your own unique item for your home. The beauty of ceramic is that it isn't intended to be perfect. Its imperfection is its appeal.
3D Wall Design
If you have a wall in your home that looks like it should be a feature wall, instead of applying a feature paint colour or wallpaper, consider applying a three-dimensional design to this wall. This way you won't need to cover it with artwork, as the wall itself is art. You can do this through special tiles, ceramic surfaces, or even plaster mouldings. It sounds like it would look strange, but the finished product actually looks quite spectacular and is well worth adding a level of interest to your space.
Design trends for 2018 are definitely leaning toward the more experimental side, daring to bring back old trends in a new light. Be bold in your design style, and try a few of these in your favourite room. You might be surprised just how sophisticated and welcoming they turn out to be.