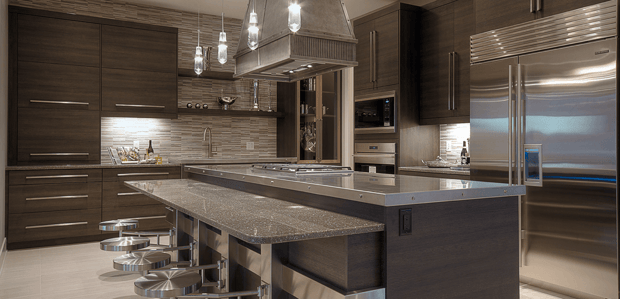 Designing the style for your new home can be both exciting and daunting all at the same time. There are so many different elements to make choices for, many of which you may not have even thought of until you get to your design centre appointment. Hardware is one element that commands a bit more attention than other items, as it alone can make a significant impact on the overall look and style of your home.
Matching your hardware to the design style you're looking to achieve can be a detailed endeavour. Minor differences in design can set an entirely different look to your home, so getting it right is imperative. There are several different styles of design you can implement into your home, and depending on which one you're aiming for, there's a certain kind of hardware to enhance the look.
Mid-Century Modern
Inspired by Scandinavian design, the mid-century modern look is very minimalist and natural. This design brings in sleek shapes and overall simplicity. Kitchen cabinets were mostly flat style with no detail, and either a glossy white or mid-toned natural wood texture.
The hardware that enhanced this look was just as appealingly simple, with cabinet pulls often being straight or slightly curved with no additional detail, or circular with a minor concave toward the centre of the pull. Door knobs were similar to the circular cabinet pulls, often being a larger version of the concave circular design. The finishes were brushed metal across all hardware.
Industrial
Industrial design is incredibly rustic and introduces the use of black metal, natural, dark wood textures, and open piping and ductwork. This design style is meant to be a bit rough around the edges. There's plenty of variety in choosing hardware for this design style, but one common element is that it looks like it was designed for a machine or commercial shop.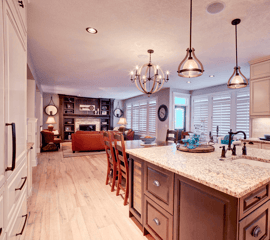 It's intriguingly imperfect, roughly designed with black metal, chrome, or copper. It could possibly be compared to what you'd find on old card catalogs or on the drawers in letterpress shops. Often in this style of design, old fashioned piping is used to create hardware elements such as faucets and showerheads, or even door pulls.
Farmhouse
If you watch HGTV and know of the show Fixer Upper, you know very well what a farmhouse style is supposed to look like. Joanna Gaines is quite possibly the queen of farmhouse design, and there's no project too challenging for her. The farmhouse look can very easily be mistaken for industrial as a lot of the design elements cross over, but farmhouse is a very distinct style on its own.
Hardware for a farmhouse style is very unique, in that drawers usually have cup pulls in a variety of metals, mainly black, brushed chrome, or iron. Simple, round pulls adorn the cabinet doors. Alternatively, hinged D-shaped pulls also can be used for drawers.
The farmhouse style also crosses into vintage, bearing more decorative and detailed elements. Waterhill is a popular fixture and faucet style that is almost imperative to the farmhouse design. This design can be pulled off without it, but this particular fixture will complete the overall farmhouse look perfectly.
Urban Modern
This unique design style combines modern simplicity with rustic industrial design. Quite often hardware for this style will consist of geometric shapes, including octagonal, rectangular, and circular pieces. This style allows a bit more detail in the design while remaining mainly simplistic, but it is almost always a brushed metal finish. Brushed gold is a strong trend, and can be carried into high-end custom lighting and some furniture pieces to add some shine and complete the overall look.
These four design styles are the most commonly sought after interior designs. There are many others, and depending on your own personal style, there is a set of hardware that will enhance the design in every corner of your home. Consult with a designer to get the best advice on what hardware to include in your new home's design.