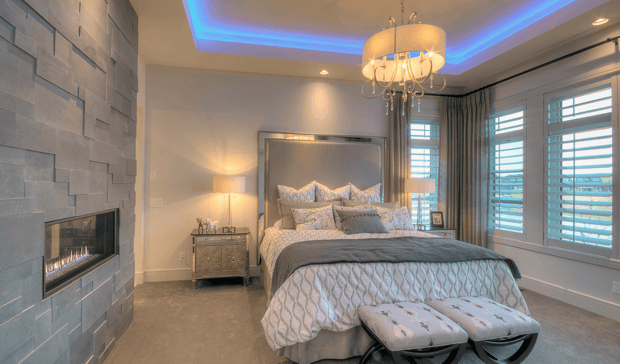 As you're imagining your new dream home, you're likely picturing luscious hardwood floors, stunning granite or quartz countertops, and magnificent floor-to-ceiling stone surrounding the fireplace, but there is one element throughout your home that ties everything together: custom light fixtures.
Some homeowners choose their light fixtures first before any other finish or décor item, simply because custom lighting has come so far in terms of style and design that it can truly be a work of art worth inspiring an entire home.
There was a time when lighting was simply a function we used in our homes. Today lighting is very much part of the entire living experience in your new home. Not only is the light itself more comforting and conducive to a relaxing ambiance, but the energy usage is far more efficient, and the design of the fixture can set the style. These features light up the room in more ways than one.
Chandeliers

Today's chandeliers are far more than a bunch of crystals hanging at various levels. A chandelier is your largest and most dominant light fixture in your home and is commonly used in open-to-below spaces and foyers, with smaller versions in the dining area and bedrooms.
If you think about how to design a room around a statement piece, your chandelier is probably the light fixture to design first, as you'll then draw inspiration from it when choosing the design of every other light in your home. Think about how bold of a statement you want to make in your home. Your chandeliers can be modern, industrial, classic tiered, or crystal. Consider the materials you'd like to use in your design as well: the type of metal such as copper, brushed gold, iron, glass, or even fabric.
Custom designed chandeliers are truly a work of art. We've seen designs with intricately woven strings of LED lights made to look like glittering crystals suspended in midair. We've seen complex blown glass designs that filter light through its brilliant curves. Ultra modern designs offer artistically crafted arms of copper or brushed gold holding one or two LED bulbs per arm for a clean, striking look.
Pendant Lighting

Mainly stationed over your island, pendant lights hang from the ceiling on cables or delicate posts and can be multiple individual fixtures or one larger light. In all cases, these lights are commonly a more delicate design based on your chandeliers. These types of lights, depending on the overall design of your new home, can also be miniature versions of your chandeliers.
Custom to the Space

Not all lighting has to be installed in a standard manner — a single light above your bed, or wall sconces above your nightstands. Consider creating a soothing and romantic ambiance in your master bedroom with two dozen or more independent, delicate lights on thin cables strategically installed at varying heights and placements not necessarily square above your bed. Although separate and randomly placed, they work together to be a single work of art.
Also custom to the space, your lighting can be designed as an artistic ceiling feature with art and light intermingling to create an entire experience. Formed to follow the shape of the room, metal and glass designs play with delicately placed mini LEDs, creating remarkable light reflections and atmosphere for your space.
Don't be afraid to experiment with light. Design your light features to create shapes, shadows, and distorted light throughout your space to add a new dimension to the room. Not only do you create a sophisticated design in your home with the finishes, furnishings, and décor, but your lighting can amplify any design exponentially with these special lighting effects.
Lighting is more than just the fixture itself — it's all about the ambiance and experience it creates for you in your new home. Artistic and cultured, the right light fixtures in your home can change your living experience entirely.