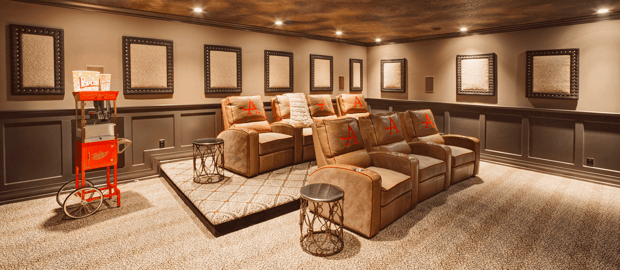 What is it that makes your heart fill with joy? Whether it happens to be something creative like art or music or if you love showing off your prized collection of hockey memorabilia, your custom home build presents the perfect opportunity to let your personality shine.
Because the sky is (almost!) the limit when you get to plan and design your home from scratch, it can feature whatever your heart desires! Below are just a few of the many possibilities a custom home build can afford you and your unique interests.
Art Studio or Craft Space
Creative artsy types greatly benefit from having a dedicated space for their craft. Whether you are a painter, a sculptor, or are into sewing or scrapbooking, having a room that is just for your creative supplies is a must.
An art studio not only keeps your supplies organized with built-in storage, you can also ensure that it is an inspired space - perhaps large bright windows or paint colours. You can set up this art studio or craft space so that when you walk in, all you have to think about is creating something meaningful and beautiful.
Jam Spaces and Studios
If music is your passion, designing an acoustic sound room with equipment for creating and recording your songs could be the perfect option. From the carpet to the wall coverings to custom built-in storage for equipment, you can create a state-of-the-art home studio. No more jamming in the garage for you! You can play your music and experiment with sound in your brand new studio space - with no need to worry about disturbing the neighbours.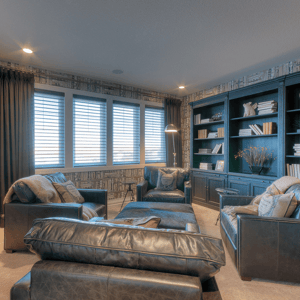 Library and Reading Den
For the bookworms, a library or reading nook spot is a dream come true. Have you always dreamed of one of those sliding ladders a la Belle in Beauty and the Beast? With custom floor-to-ceiling shelving it's completely possible! Not to mention, custom shelving means you can beautifully display your entire book collection.
Adding a custom fireplace with a comfy overstuffed chair is the perfect reading nook for the avid reader. Brew some tea, close the door and dive into a book for the afternoon.
Gym
You can go ahead and cancel your gym membership when you create your very own home gym.. A treadmill, an exercise ball, some free weights, built-in speakers and a wall-mounted television will give you the exercise space you need to get your workout in without having to leave home!
The key to making your home gym feel professional is proper flooring with exercise mats and ergonomically designed padding. Adding a self-cooling water station or juice bar ensures you will stay hydrated during your workout.
Home Theatre
If you're a movie buff, a home theatre is the perfect option for you. Make this space your own by designing it with a few large sectionals for you and your family, or create a true theatre feel by adding several lounge chairs for each person.
Complete the setup with either a large plasma screen television or opt for an authentic theatrical projector along with surround sound. With dimming recessed lighting, it will be the coziest theatre you have ever been to. Adding an old fashioned popcorn machine will tie the whole experience together!
Meditation and Yoga Room
Many people who practice yoga and meditation like to do so early in the morning. This is a little more difficult when you have to leave your home to attend a class or studio. Think of how relaxed you'd be if you could create a yoga or meditation space in your own home. You could even add some technological elements like a surround sound stereo system for calming music or large windows for an array of natural light.
With simple design elements like plush carpeting and minimal furnishings, you can create a serene room ideal for taking that quiet time you need for rejuvenation any time of the day.
Collection Area or Mini-Museum
If you are a collector of any sort, you don't want your entire collection to be stored away where no one can see it. A custom showcase room could become a perfect spot for your collected treasures.
From clocks or historical findings, to antique toys or model cars, all collections deserve to be treated like the beloved items they are. With display cases and directional lighting, your custom collector's room can become a mini museum for all of your prized possessions.
The bottom line is, with a custom build, you can personalize your home however you desire. Spend more time doing what you love, whenever you want to do it; from music rooms to theatres, home gyms to art studios your custom home builder will be able to make your dream spaces a reality - the only thing you have to do is dream big!