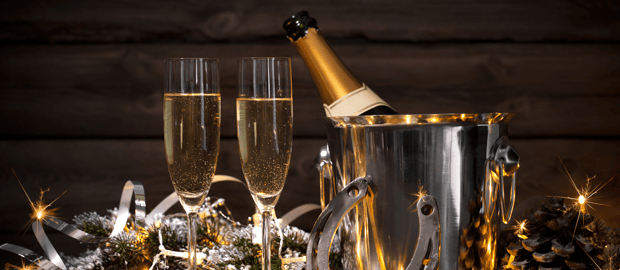 Hosting your own New Year's party is something many homeowners look forward to all year long. Dreaming of elegant decorations, a spectacular food spread, and ringing in the new year among your closest friends and loved ones.
Your home is filled with design ideas to entertain your friends , but you know you want to make this year's party one your guests will really remember.
So, how do you accomplish this?
Plan Ahead
Start by making a guest list of everyone you'd like to invite. By doing this first, you'll get a better idea of how big or intimate your party will be. You'll also want to do this well in advance of New Year's since many of your guests may be invited to several events that night. The earlier you can invite them, the better chance you'll have at being their party of choice.
Create Your Theme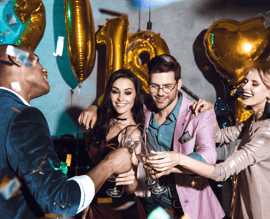 If you give your party a theme, the excitement generated by the event will be something your guests will want to be a part of. If it's just a plain old cocktail party, you might find your guests opting for other events. Consider choosing a theme that is elegant yet fun, and be sure it isn't a theme that's overdone otherwise your guests might be bored of the idea before you've even begun. The right theme will also make decorating and catering more interesting.
Here are some creative and classy ideas:
1. Masquerade Ball
Masquerade parties are typically both elegant and mysteriously fun. Invite your guests to come in formal attire wearing their own masks, but just in case some guests don't have their own, be sure to offer a supply of masks at your front door for those who need one. This type of party is ideal for a late evening start, as many guests may not want to take their masks off to snack.
The decorations for a masquerade ball should be both enchanting and whimsical. Have fun decorating with black and gold, with a punch of bright colour added in.
2. Globetrotter
Halloween isn't the only time of year we adults can dress up. A New Year's party is a great time to come dressed as your favourite part of the world. To add to this theme, consider highlighting a variety of countries with selections of native foods, decorating parts of your party area as different countries, and hosting some of those countries' traditions for good luck.
3. Charity Night
A fresh start in a new year is a great time to give back to your community. Depending on who your guests are, consider hosting a party focused on fundraising for your favourite charity. Collect donations to the food bank or local soup kitchen, host a silent auction, or collect specific items for a homeless shelter. What a party to start your new year on positive ground.
4. Black and White
Nothing is more elegant than black and white together. Host a black and white party, inviting guests to wear one or both colours. Decorate your home with appropriate black and white décor, and serve up the catering to suit the theme.
Serve Black and White Russians as your signature drink for this type of party, and black and white (also known as half-and-half) cookies to complement the rest. If your home includes the must-have kitchen features for entertaining, hors-d'oeuvres spaced out along the kitchen island under ambient lighting creates the classic cocktail party setting.
5. Champagne Inspired
Your theme this year could be as simple as champagne. Choose champagne coloured decorations and serve the bubbly in a variety of champagne cocktails as your signature drink for the evening. If you're confident in your balancing abilities, you might even borrow a signature wedding idea and create a champagne tower. Make this party special by ordering custom flutes that your guests can take home as a parting gift.
6. Great Gatsby
Who wouldn't want to host their own lavish Gatsby party? Theme this gathering around the 1920s with matching music, art deco style invitations and décor, tons of gold and white balloons and champagne all around. Make use of luxurious home entertainment options to bring it all together, and encourage guests to dress lavishly – feather-clad and all. A throwback to the roaring '20's could be a party so fun your guests will be talking about it for years.
Your New Year's party could be themed around just about anything you love. The success is in the details, so when you're planning your next party be sure to let your imagination run wild. Think of your guest list and develop a theme around what you think they might love, and your party is sure to be one to remember.