Upgrade your Thanksgiving table
Ever notice we tend to do the same thing every year, which is not a bad thing as traditions are what we all love and remember growing up. However, if you're looking to change things up, we've scouted out 3 great twists that will be a hit this Thanksgiving.
Twist on table decor
Everyone loves to decorate their tables and make it welcoming. People love fresh flowers, pumpkins, fall leaves and candles. Why not combine them? Get this great Succulent DIY above from Simplyhappenstance.com
Find a nice shaped medium sized pumpkin and remove the insides as usual. Next you can place a glass or plastic container inside and place your favourite fall floral picks fresh or silk right into the pumpkin.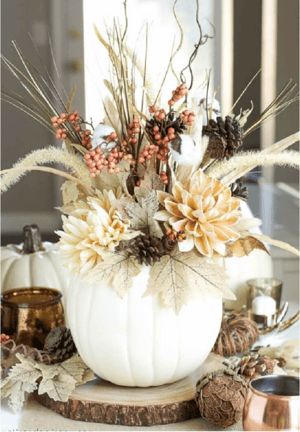 Your table will look amazing!
If you have extra time, you can spray paint the pumpkins prior in white or what ever your colour theme is. They are super attractive and bound to add some interest to your table. Home BNC offers up an array of different table decor that's both simple and cost effective. Don't be afraid to mix and match ideas too. Remember this is your dinner and you can do what ever suits your budget and decor on hand.
Check out this easy DIY from Sweetest Occasion. Maybe find a few mini pumpkins and remove the insides and place some tea lights inside. This is a great touch to add some ambience to your table.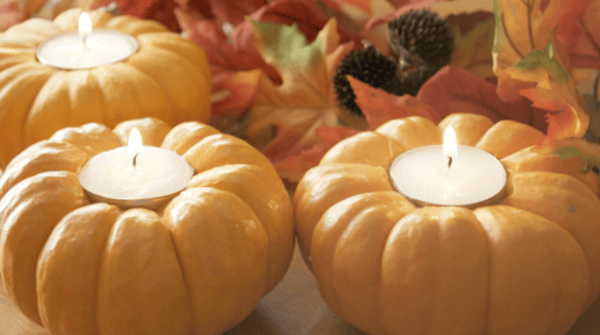 ---
Upgrade those side dishes!
Why offer regular mashed potatoes, when you can serve your family delicious Parmesan Truffle Mashed potatoes...



We all seem to have a version of mashed potatoes that we serve every year but how about kicking it up a notch and try serving Parmesan Truffle Mashed potatoes?

Guests will talk about this one for ages… but then again you might be asked to host again! We found this great recipe from a Southern Lady

Ingredients

4 quarts water
1 tablespoon plus 1 teaspoon salt, divided
2 pounds Yukon gold potatoes, cubed
2 pounds red potatoes, cubed
1 cup sour cream
1⁄2 cup butter, softened
3 cups finely grated Parmesan cheese
1⁄4 cup white truffle oil
1 tablespoon chopped fresh parsley
1⁄2 teaspoon ground black pepper


Instructions

In a large Dutch oven, combine water, 1 tablespoon salt, and potatoes over medium-high heat. Bring to a boil; cook for 10 to 15 minutes or until tender.
Drain potatoes well, and return to sauce- pan. Add sour cream and butter. Using a potato masher, mash potato mixture until butter melts. Add Parmesan cheese, truffle oil, parsley, remaining 1 teaspoon salt, and pepper, stirring to combine well. Serve.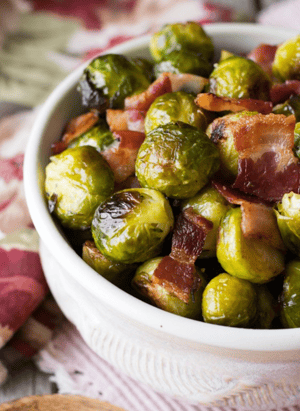 Oven Roasted Brussels Sprouts with Bacon is sure to convert your kids from saying,
"Not Brussels sprouts ...Eeew" to "Can I have more please!"
This delicious recipe from the kitchen of " A Family Feast" is bound to please the most of picky of eaters.
INGREDIENTS
• 1½ pounds Brussels sprouts
• 2 tablespoons olive oil
• Kosher salt and ground black pepper
• 6 bacon slices, cut into 1 inch pieces
• Optional kick – add 3 tablespoons of pure maple syrup half way through cooking and stir - yum
INSTRUCTIONS
1. Preheat oven to 400 degrees.
2. Clean and trim Brussels sprouts and cutting any very large heads in half through the core. (It's fine if some of the outer leaves fall off – just bake those along with the rest of the sprouts. They get extra crispy and are delicious!)
3. Place the Brussels sprouts in a large bowl and drizzle with olive oil, tossing to evenly coat.
4. Pour the Brussels sprouts onto a large sheet pan (you want them to be in a single layer). Sprinkle with salt and pepper. Then evenly sprinkle the bacon pieces over the Brussels sprouts.
5. Roast in the oven for 20 to 30 minutes, turning halfway through the cooking time, until golden and lightly caramelized.
6. Serve immediately.
---
Dessert or is it a parting gift? It's both!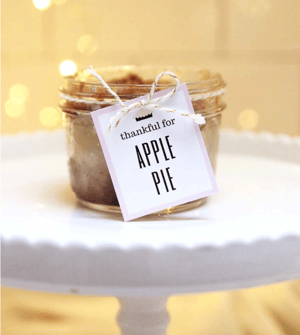 As we know, we are all so stuffed from dinner but still want to try to eat the yummy dessert planned. Well we have a solution for that which is both fun and easy. Why not serve your dessert in a mason jar! If they don't have room, they can take it with them as a parting gift!

Modern Glam offers an incredible recipe on mini apple pie mason jars with printable tags too! These Mini Mason Jar Apple Pies can be made the day before and warmed in the oven before serving or served at room temperature. Drizzle with caramel sauce for an extra indulgent treat!

See the mason jar apple pie recipe

Mini Mason Jar Apple Pies

Your favourite Apple Pie in individual serving sized mason jars. Course Dessert Cuisine American Prep Time 15 minutes • Cook Time 45 minutes • Servings 12 jarred pies Author Ashley

Filling Ingredients

1 cup sugar
1 tablespoon cinnamon
2 teaspoons nutmeg
1/2 teaspoon cloves
2 tablespoons all-purpose flour
8-10 medium Apples Granny Smith, Honeycrisp or Pink Lady varieties
4 tablespoons salted butter cut into small pieces
1 tablespoon lemon juice Crumb Topping
1/2 cup brown sugar
1/2 cup all-purpose flour
1/4 cup oats
6 tablespoons salted butter


Crumb Topping Ingredients

1/2 cup brown sugar
1/2 cup all-purpose flour
1/4 cup oats
6 tablespoons salted butter


Instructions

Preheat oven to 375 degrees.
Make recipe for pie dough (pate brisee).


Notes Martha Stewart's Pate Brisee recipe

https://www.marthastewart.com/317858/pate-brisee-pie-dough

Filling

While the dough is chilling, peel and core your apples and cut into small pieces.
Combine the apples, flour, sugar, cinnamon, nutmeg and cloves.
Roll out dough and cut in circles that will fit inside mason jars. Press the dough into the jars.
Fill the dough-lined jars with filling just to top.
Dot each jar with a small dab of butter and a sprinkle of lemon juice (this step is optional)


Crumb Topping

Combine sugar, flour and cinnamon. Cut in butter. Add in oats and stir to combine.


Top each jar with crumb topping. Place jars on a baking sheet and bake at 375 degrees for 40-45 minutes. Remove from oven and cool. Can be stored at room temperature for up to 2 days. Or cover and refrigerate for up to 5 days.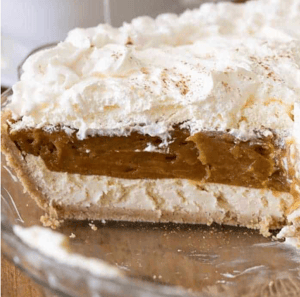 Try this No Bake Cheesecake that is sure to wow the crowd!

Try a No Bake Pumpkin Cheesecake! from Spend with Pennies! This is definitely going to be your new favourite fall desserts.

Ingredients

8 oz. cream cheese softened
1 cup + 1 tablespoon milk divided
1 tablespoon sugar • 8 oz. whipped topping
1 prepared graham cracker crust ( if you want to make your crust ) or see recipe below
15 oz can of canned pumpkin
2 packages instant vanilla pudding 4 servings size each
1 tsp. ground cinnamon
1 tsp. pumpkin spice


Instructions

1. Beat together the cream cheese, 1 tablespoon of milk and sugar in a large bowl. Fold in 1/2 of the whipped topping and spread in the graham crust.

2. Whisk together 1 cup of milk, pumpkin, dry pudding mixes and spices until creamy. Spread over the cream cheese layer.

3. Top with the remaining 1/2 tub whipped topping and refrigerate for at least 4 hours.

4. For the Mason Jar version, simply prepare the no bake crust below and layer the same as the pie.

No Bake Graham Crust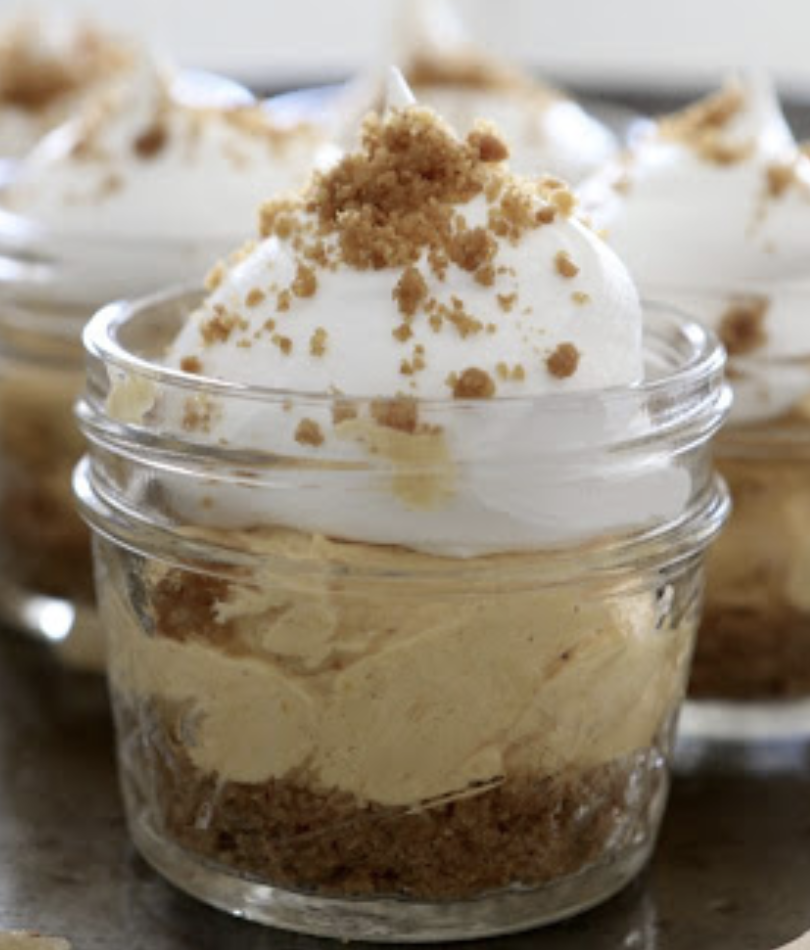 PREP TIME 15 minutes
TOTAL TIME 15 minutes
AUTHOR Holly Nilsson
This simple 3 ingredient pie crust takes just minutes of prep - no baking required.
Ingredients •
6 tablespoons melted butter
1 ½ cups graham cracker crumbs
¼ cup sugar Instructions
Photo by http://www.thehungryhousewife.com/2016/10/mini-no-bake-pumpkin-cheesecakes.html
1. Combine all ingredients in a bowl.
2. Using a fork, mix well until all ingredients are moistened.
3. Pour into mason jars and press evenly on the bottom and sides.
4. Refrigerate at least 30 minutes before filling.
Thanksgiving is essentially about celebrating what we have and being with people you care about. This is more apparent than ever these days so all these ideas are just icing on the cake. Being together is truly what counts so if you would rather stick with tradition -great. If you think it's time to try something new, then we hope this helps you with a few ideas.
All in all, we wish you happiness and health from our table to yours.