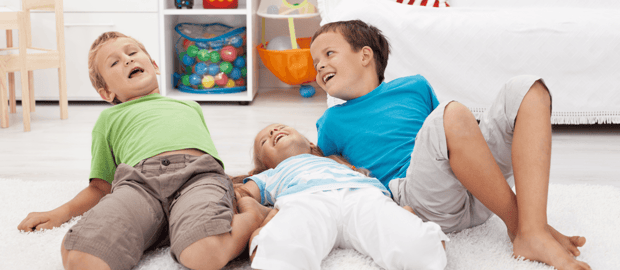 Building a custom home is an exciting and adventurous time for you, but you can also amp up the thrill factor for your kids. By giving them some super cool, unique features of their own, you will ensure that the entire family will love their new home as much as you do. From simple ideas to downright bold, here is a list of ideas for making your custom home the perfect kid-friendly environment.
Starlight Ceiling
Usually reserved for theatre rooms, your kids' bedrooms can become their own personal planetarium with fibre optic lighting built right into the ceiling. Make nighttime sparkle, and they may just look forward to going to bed.
The Troll Under the Stairs
Do you have an enclosed space under the stairs in the basement or main floor? Consider turning it into a kid-sized hideout with wallpaper or painted mural, mini table and chairs, soft rugs and pillows, and a large beanbag chair in which they can relax or read.
Secret Hideaway
Do you remember as a kid you always dreamed of finding a secret passageway into an unknown space? The idea of exploring unchartered territory in your own home was exhilarating. Build your kids their own secret space by hiding a room behind an armoire, Narnia-style. Have fun letting them discover this special space and let them make it their own.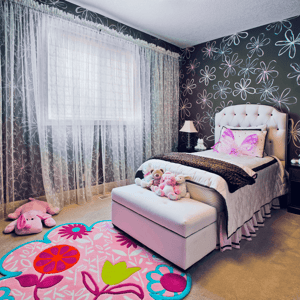 Fun Bedroom Theme
If you prefer to stick to less drastic customizations, creating a room theme for each of your kids can also be inspiring and fun. Design your theme around the things they love the most. Are they creative? Incorporate drawing desks and built-in shelving for art supplies.
Are your kids old enough for sleepovers? Consider building multiple bunk beds so everyone has a comfy place to sleep. When friends aren't over, your kids can choose which bed they sleep in, giving them choice in their own space.
Fun Chalkboard or Magnetic Wall
Something as simple as an entire bedroom or playroom wall dedicated to being chalkboard or magnetic gives your kids a blank slate to be creative. If you use a magnetic wall, supply them with oodles of alphabet magnets as well as fun shapes to play and explore. If your kids are a bit older, chalkboards can be a great way for them to express themselves, erase, and start again.
Convert a Funky Space Into Play Area
Do you have a corner of your home that could be ideal for a mini kid fortress? Construct a special multi-level play zone with a door (playing 'house' just got way cooler), and a loft with multiple levels. Include some built-in bookshelves on both levels for game, book, and toy storage.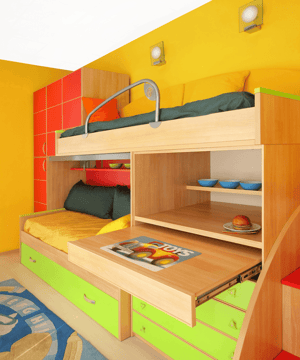 Top It All Off
The best way to keep kid clutter at bay is to create an entire dedicated play space. If your home has a loft, extra bonus room, or recreation room in the basement, this may be the ideal space for the kiddos. Make it entirely theirs by painting the walls fun colours and patterns, add tons of cushions, pillows, and other comfortable things they can make forts from. Be sure to provide some kind of smaller 'hideaway' space like a tent or special cubby. You'll also want to include cupboards for games and toys so that there are places to tidy up the mess after playtime.
Custom Mudroom
As the poem goes, "Sugar and spice and everything nice, that's what girls are made of…Snips and snails and puppy dog tails, that's what boys are made of." Eventually, all of that sugar, spice, and snails are brought in from the outside and end up in your home. Building a custom mudroom with enough cupboard space, cubbies for shoes, and hooks for jackets and bags will ensure all the mess and clutter remain in one tucked away space.
Other Features to Consider
We all know kids can be rambunctious, putting extra wear and tear on your home. Selecting resilient products such as cork or vinyl plank flooring in dedicated kid areas can prevent early maintenance or repairs. These types of flooring very rarely scratch and are easy to clean without affecting their quality. Also, if you have a space in your home that belongs entirely to your kids, soundproofing is a great option to keep the noise at bay.
These ideas simply scratch the surface of the possibilities in your custom home. Ask your kids, if they could have one really cool feature in their new home, what would it be? Their answers may surprise you!
Don't Forget
No matter how much these ideas may reduce noise and maintenance, and provide ample entertainment options for the kids, there will still be days that leave you exhausted. Consider creating a relaxing ensuite in your new home for a much-needed parent-friendly getaway.