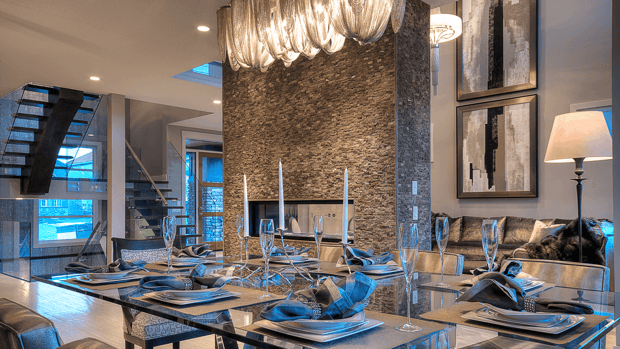 It's no surprise that home design has made some pretty drastic changes over the years; as our lifestyles change, so do our homes. A hundred years ago, homes had parlours for greeting and entertaining guests, as it was unconventional to have visitors inside the rest of your home. Today it's just the opposite. Parlours have disappeared from floor plans altogether, and now the main living space is open concept and your guests enjoy your home as you do.
Decade after decade, floor plan customizations seem to follow waves of trends. In the past 50 years alone our homes have drastically been reshaped, from design and décor to how rooms are laid out and even the overall size.
1800s-1900s

Beginning in the late 1800s, Frank Lloyd Wright had changed the landscape in home architecture, drastically redesigning how structures integrate with the nature surrounding them. His bold ideas pushed past the boundaries of the typical home, creating designs that seemed to breathe life on their own. His designs were early for their time, and many of his concepts created back then are integrated into our modern day homes today, such as breakfast nooks, walk-in closets (unheard of in his time), walk-through pantries, and main floor half bathrooms.
Of course, not every home was designed by Frank Lloyd Wright, and many homes in the first half of the 1900s were primarily functional. Rooms were divided into very distinct spaces, bathrooms were scarce — typically only one full bathroom per home — and the overall square footage was just enough for what your family would need. There was no room to stretch out, there were certainly no walk-in closets, and rarely did a home have a garage at all, let alone one attached to the home.
Modernizing in the 1960s

Then about 50 years ago, homes began making the transition between being solely for function to being designed more for style, fashion, and panache. In the 1960's, everything turned brown, green, and orange, shag carpet was found everywhere, and velvet-textured damask wallpaper covered the walls. Home design swapped old-fashioned floral wallpaper and monochromatic tones for mid-century modern furniture with clean lines, new textures, and miniature, circular throw pillows everywhere.
Floor plans were much larger, introducing the concept of open space and massive windows, and many homes were single-level with wide footprints. Also at this time, Andy Warhol's soup can painting shocked and awed art lovers. Why? No one knows. The 1960s were memorable for many reasons, and the eclectic and unique design of homes at the time is certainly one of those reasons. Remember when Formica was THE countertop to have?
Groovy 1970s

In the 1970s, we seemed to want to hang onto the vibrant colour scheme, although it modernized a touch with woodgrain, well, everything. Wood panelling on the walls became a major trend and velvet wallpaper was traded for dark oak grain veneer. Furniture also became far more 'woodsy'. In fact, wicker furniture became the item to have in your home. Floor plans still had one bathroom for the entire home, with three similar-sized bedrooms.
The master bedrooms didn't have ensuites or walk-in closets; somehow we didn't need all that space in the '70s. However, one trend that began to emerge was that of more open concept layouts. The living room generally opened into the dining room in this era, although the kitchen was still usually separated by a wall or two.
Softer 1980s-1990s

The 1980s and 1990s were probably the most drastic era of change in home design in the past 50 years. We finally let go of the eyeball crunching colour palette and softened into pastels. Pink, coral, and forest green covered everything from furniture to walls to fabrics. Even the blonde-stained oak floors looked pink against everything else in the home. In these decades floor plans really opened up, revealing the kitchen to the rest of the main living space.
Two-storey homes became the most in-demand home style on the market, opening up the potential for new, unique features such as open-to-below spaces and grand foyers (in a regular home as opposed to always being present in estates). Master bedroom ensuites also began to appear. And brass. Oh, that bright, gold-wannabe brass. But we felt regal, didn't we?
Electronic Living in the 21st Century

Step into the 21st century and we find mainly what we see today. Homes have become far more than a place to sleep, eat, and shower. In our digital and electronic world, we are spending more time at home than ever before, and as such our homes need to accommodate this need for unique space.
Homes are being wired for electronics in every room, full-home Ethernet capability, and unique floor plan spaces such as home offices, bonus/media rooms, and even home theatres. We can see how technology has affected home entertainment. We even have smart homes now where virtually every function can be controlled by a mobile phone, including your appliances. The Jetsons couldn't have imagined that their vacuuming robot, Rosie, would be a fraction of the size they expected, and didn't talk back.
Today, popular floor plans for the custom home often boast wide open concepts on the main floor that spill out to the outdoor space where now the kitchen is partially outdoors, just enough to remind us to rejoin nature once in a while.
Our homes today represent somewhat of an indulgent lifestyle. With three-to-four bathrooms per home now, no one has to share. Walk-in closets allow us to store enough outfits to never wear the same thing twice, and overall the square footage of a home is nearly double the average of 100 years ago. And we're having far fewer children.
That being said, it seems Frank Lloyd Wright saw into the future. It only took us a half a century to realize his designs are ideal for our lifestyles today. As our homes move into the more eco-friendly territory, we have to wonder — what's coming next in home design?