The sound of water can soothe your soul
The sound of trickling or babbling water in your yard can indeed soothe your soul and mask any unwanted noise from neighbours such as animals or loud children. Did you know that a water feature can also attracts birds and butterflies ? We have outlined some options for various spaces and needs. See what might be the right fit for you to stay home and getaway from it all. There is nothing like watching birds bathe right before your eyes.
Bubblers
Bubbler fountains can be as small as 2' in diameter or as large as your space can handle, Bubblers come in spherical, natural or textured shapes to enhance the sound of the water and design of your garden. Basically these water features are low maintenance and require a buried small waterline to your exterior tap and an electrical outlet. The center stone in cored out and a pump recirculates water up through the centre from the catch basin area below the stone. The sound is very tranquil and relaxing. In the winter the pump is removed and stored in a bucket of water over the winter and the basin area drained. If you don't want the hassle, then you can have a maintenance package where the professionals do this for you.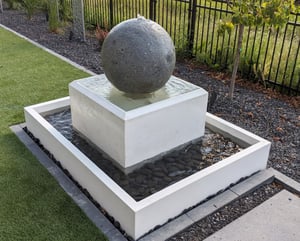 Tip: Ensure your Bubbler is not located under a large heavily treed area to keep leaves out of your feature thus making less cleanup work. Bubblers work well in the back or front of your property.
Bubblers can also be a less expensive options but keep in mind the size of your stone or fountain base. When you increase the size, you will increase the budget!
Waterfalls and Ponds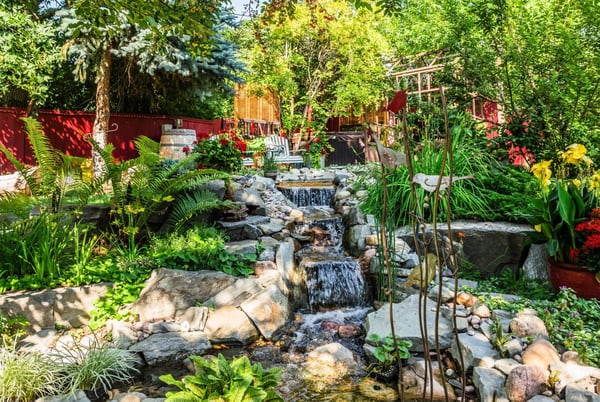 With how the world has had to retreat to their own homes and yards, there is nothing more rewarding than spending time in your own oasis. Though a waterfall /pond can be an investment, done correctly, can add value to your home and give you years of enjoyment. Experts know what plants and placement of features will enhance your yard the best. Do you research and look at companies that have a proven history and ask to speak with their clients. Water ponds can be turned on in the earliest of spring and run till the water is just starting to freeze. Professional companies such as Water by Design offer many styles and back their water features with an amazing warranty.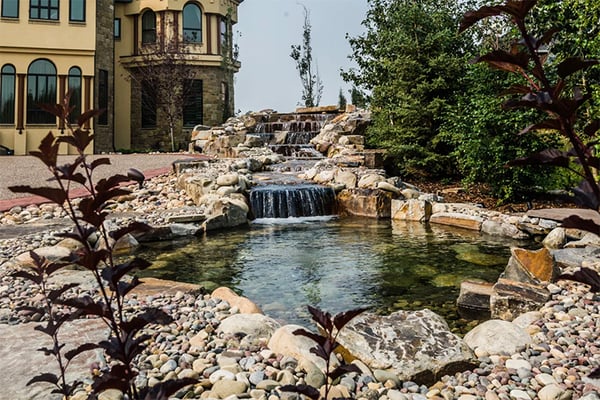 Just Falls?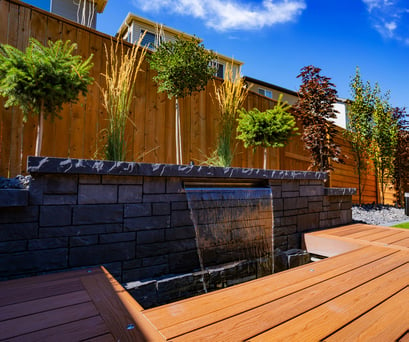 Maybe you really want that sound and look of a waterfall but can't accomodate the space needed for a pond?
Have you considered a Justa- Fall? Or even a water blade? These styles fit even the smallest of spaces and give you a big wow factor too.
Tip: Try to make it a focal or gathering spot to get the most enjoyment for your money.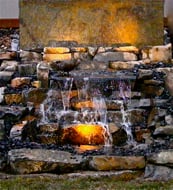 Kevin Allen, from Water by Design, says the choosing your space is critical. The ideal spot for a water feature would receive at least 6 hrs per day of sunlight, think morning sun and afternoon shade. This will provide the enough sun needed for water gardening and surrounding plant life and the afternoon shade will help to control algae. Focal points and hearing the water fall is important to, as we know, Alberta's our outdoor summer season is short, and mornings and evenings can be chilly. You'll want to see and hear your water feature from inside and around your home or business through as many windows and entry ways as possible! In the evening when the pond lights come on, your water feature transforms into a magical oasis. A water feature never gets boring and if it's build the right way it should last a lifetime!
Want the sound all year round?
Perhaps you should consider a waterwall. Yes, that's right - a waterwall. It's a self contained unit that literally hangs on your wall and comes in various forms. You can have a stone, glass, curved or boxed style or even a saying or photo etched into it. These waterwalls are also styles that light up from the top or backlight. They offer that tranquil sound all year round with very little maintenance.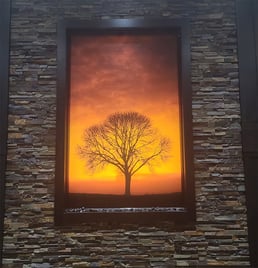 No matter what your budget or space allows, adding a water feature will give you peace and serenity for years to come. For the amount of "staying home" we've done this year, we realize more than ever having a space that helps relieve stress is critical to our well being.
Look outside at your yard and let your creativity flow. Prepare for a better, happier summer.